The need for print on demand (POD) services and products  has been growing steadily in the past few years. As a result, companies and online platforms focusing on this business model have been emerging. Here is a detailed discussion on what POD means, how it works, pros and cons and frequently asked questions
What is Print On Demand
Print On Demand  is a modern digital printing technology as well as a merchandising model whereby a product is printed and shipped to customer only when an order has been placed. It is an order-to-build as opposed to the traditional build-to-order trade.
What this means is that rather than wasting resources to manufacture and stock printed items in your physical store while waiting for customers to place orders, you create an intangible sample (template/mock-up) of how the final product will appear, wait for a customer to order then print and deliver the physical product to the customer.
This is honestly freaking economical! It is this inexpensive nature of this venture that has made it so popular.
Back in the days, it all started with books but as of today, almost any product can be printed on demand. T-shirts have become the most popular POD items after books. Apart from tees there are also other items that are gaining popularity.
Who & What does POD involve?
To have a complete understanding of POD and how it works, let's first dig into what and who makes it.
The key players in POD include;
Creatives
Online MarketPlaces
Digital store
Dropshipping/fulfillment Company
Online shopper
Creative
This includes artists, illustrators, photographers among others who research and come up with selling ideas or designs. The idea may be based on a trending topic, an event, a hobby/profession, popular holidays such as Christmas etc.
They specifically create their own custom artwork or designs which they upload onto a variety of virtual products. virtual in this case means intangible representation of the real product. They're mostly referred to as product mock-ups.
It is the creative's work that determines how well a POD product will perform. Therefore, creatives play a huge role in the success of this trade.
POD Site or Online Marketplace
This is usually an already established website or a web app equipped with functionalities that enable creatives to upload their artwork or create designs on the fly.
These platforms provide product templates or mockups on which creatives can make or place their finished artwork. Some also have models who showcase the product more especially if it's a wearable item.
It is on these platforms where the creatives' work is displayed to online shoppers. At same time, this is where the shoppers, clients or customers can place orders for the  POD products  with the artist's custom designs or artwork.
Some of these market places print and ship the final products to the customers while others outsource these tasks to print fulfillment & dropshipping companies.
Digital/Online Store
It  serves the same role as the marketplace but these stores are usually, small, low-cost and niche-based (specialize in a particular product/audience).
It can be a personal store owned by a creative or one that is owned by small company.
These stores, in most cases rely on fulfillment/dropshipping companies.
Online Shopper
This the person who browses, researches or compares products online with an intention to buy. It may be an individual or a whole organization who eventually places an  order for a POD product(s)
With the ever-growing technology, almost everyone is an online shopper today. Reports show that online shopping is one of the most popular internet activities and to even make it juicier, online buying is one of the fastest-growing internet activities.
 Dropshipping/ Fulfillment Company
This a company that primarily manufactures and ships the products which bear creatives' artwork to online shoppers or customers on behalf of the creative. This is a crucial service especially for small store owners and marketplaces with limited finances.
These companies have all the tools to create and deliver the physical POD product to the buyer. This means that the creative, most likely, won't see the product. This is it what brings about the dropshipping idea.
Some marketplaces also outsource manufacturing and shipping services to these companies.
It is also important to note that some fulfillment companies offer functionalities same as those of market places and some market places offer fulfillment services.
At the same time, it is also possible for some stores to handle the whole process under one roof.
How does Print on Demand work?
Now that you know the key players and their role, it is quite easy to understand how this venture works.
In most cases it starts from a creative who comes up with design ideas which will attract online shoppers. With an intention to sell, the creative then converts the ideas to actual designs which he/she uploads to marketplaces or digital stores.
As mentioned earlier, the designs are displayed on a variety of intangible or virtual products that are reflection of the final physical product.
While shopping online or on the marketplaces themselves, the customers will browse then place an order of a specific number of POD items.
The processing of the order will depend on the type of marketplace or store and how they're set or configured.
Some marketplaces will take the order print the item and ship it to the customer. Stores and some marketplaces will take the order and send it to a fulfillment/dropshipping company which will then print the exact number of items and ship them to the customer.
Below is a basic illustration.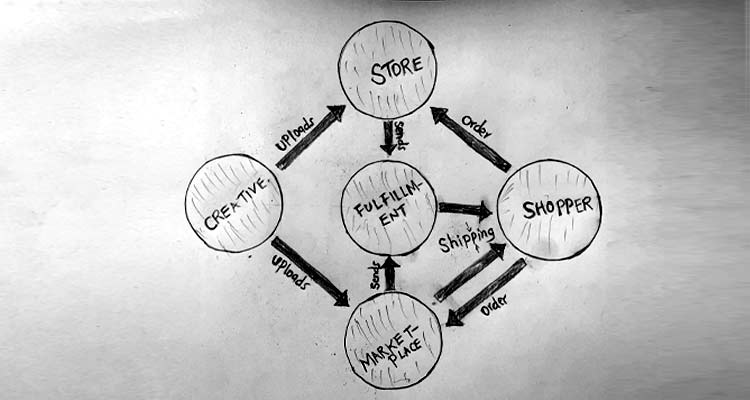 How do you make money in a Print on demand business?
There are different ways you can earn money in a POD venture. It all depends on how you've chosen to approach the whole POD idea.
If you are a creative, that is an, an artist, a graphic designer, a photographer etc.  who does not want to incur inventory, printing, packaging and shipping costs, you can simply upload your artwork and earn through royalties or commissions.
All you need is to submit your custom designs to a marketplace then set prices for each. When a customer places an order, the marketplace will send you a commission or royalty, it will then print, package and ship the product to customer.
Some marketplaces allow the creative to set a fixed amount for his/her royalty while others let creatives select a percentage. Some market places have a base price for each item meaning that you will have to set your price higher to make money.
For creatives who own a store of their own, earning is a little bit different. In this case, pricing is quite flexible, you choose how much you want to sell your POD products.
When a customer places an order from your online store, it is sent to your print partner (fulfilment/dropshipping company) with the customer information. Depending on how you've configured your digital store, the order can be sent automatically or you can do it at your own time.
Once your print partner receives the order, they print your custom design on their material, package and deliver it to customer. You pay for all these services and the remaining amount from the listing price is yours.
If for example you had priced your POD item at $25 and it costs your print partner $17 to manufacture and ship, you will make$8 ($25-$17=$8) that is, all the expenses subtracted from the displayed price on your store.
Note that some store owners who have enough resources may opt to work without a fulfillment company which means that they will handle all the expenses. That is a different scenario and it will require specialized skill set and machinery.
The section above describes how most people especially creatives and small store owners can make a living from a POD business…what about the marketplaces? How do they earn?
Marketplaces are quite many and they work differently. This means how they make money varies.
Basically, some will charge you a registration fee to host your custom designs while others take a huge percentage of the purchase price when customer buys POD product that bears your custom design. This is make sense to some extent since they incur cost of manufacturing, shipping and sometimes customer care.
Finally, the fulfillment companies earn by charging creatives and marketplaces manufacturing and shipping costs. How this is done differs from one company to another.
On Demand Printing Benefits/Pros/Advantages
Why is POD a good business model?
Economical
This model is cost saving for all the key players.
Creatives/artists
Will cut on manufacturing, stock handling and shipping costs
Save on marketing costs because some marketplaces are already established with substantial audience(traffic).
Some marketplaces offer customer care and other after-sale services which  may help creatives escape some costs.
Low initial startup cost especially if you are an artist.
Some POD marketplaces are totally free to showcase your artwork
Marketplaces
Marketplaces in most cases will cut on creative part of the venture. They will save on hiring expensive professional artists.
Fulfillment companies
Just like marketplaces these players will cut on hiring costly designers. They will as well save on product marketing now that artists and marketplaces will already be doing it.
Specialization
This business model encourages specialization which means that it allows everyone to focus on what they can do best.
For instance artists will focus on coming up with creative ideas and trending designs, marketplaces will handle the marketing part while fulfillment will manufacture and deliver.
Global reach
With this kind of business you can work from anywhere and as well sell to anyone within the planet as long there is internet access
A Good side hustle
For creatives, POD can be a good side hustle. It can definitely supplement your full-time job in one way or another. You do no need a lot of money and skill-set to start.
However this entirely depends on how deep you want to dive into the POD industry. If you have plans to turn it into something big in the future then you need to invest considerable amount of time and money.
A source of passive income
POD can be a a good source of passive income especially for artists and marketplaces. A single artwork can sell several times over many years.
Convenience
This especially for online shoppers. The shoppers can  order a custom product designs anytime and from anywhere as long as they can access internet.
Variety of customized or ready to personalize products.
Originally it was books then t-shirts flooded in but as of today numerous products can be printed on demand; stationery, bedding, pet wear, footwear and more! The choice is yours.
POD Cons / Disadvantages
They say nothing is perfect…so is POD. Inasmuch as it has benefits, this business model is not always good…it comes with its downsides or rather negatives.  Following are reasons it may not be the best venture.
Competition
Some products such as t-shirts have already saturated the trade. You will be competing with a lot of creatives, already established and even  upcoming brands.
Even if you were to narrow to common  niches, hobbies, trends or professions, chances that you will make sales are extremely low.
This means that you need to invest a fair amount of time to research niche ideas and products can sell.
Low Margins
If you're using marketplaces, the profit margins will most likely be low for most products. Some marketplaces won't even allow you to adjust the margins.
Low Brand Control
Unless you're using your own store, most marketplaces won't allow you to sell as your brand but under their brand. This means that you will only be growing their brand but not yours.
Copycats
POD business is steadily growing and there are no signs it will stop any soon. It is sort of a hot cake and of course everyone wants a share of that cake.
This has resulted to individuals who want to make a huge sum of money overnight which has lead to investing in shortcuts : copying and selling what is already selling…
If a certain  design or artwork is selling copycats will tend to copy it, make few modifications, upload it and lower the price tag. This simply means that the original creator of the artwork will sell fewer or no tees.
Some marketplaces have mechanisms to curb these unacceptable tendencies but the effectiveness of these mechanisms are not that effective.
It may be costly
In the above section it is stated that this business is economical but that does not imply it is always cheap in the long run.
Why? Because it will depend on how you want to run it. In terms of machinery and labor, it is obvious that it will cost you if you are intending to be a POD marketplace or a fulfillment/dropshipper.
At  the same time, choosing to come up with your own POD store isn't cheap since you will have to pay for an all-in-one eCommerce solution like Shopify or alternatively hire someone to help you create a decent one using  WooCommerce.
Additionally, you may opt to hire a designer or artist to handle to the task of converting your selling ideas to unique designs.
At the same time, some POD platforms will require that you pay some fees to get an account or access some premium features.
It can only be thought of as cheap if you are equipped with substantial design and technical skills and you've opted to sell on the existing free marketplaces.
Unreliable
Some marketplaces will ban you without a warning if you go against their terms even if it was not at will.
Some wont even  explain why they have closed or deactivated your account…it doesn't matter how many sales you were making or how many designs you had uploaded.
This is one of the reasons marketplaces are not the best. Having your own store is better.
Low Quality Print-Outs
Some fulfillment companies use materials(fabric), machinery or technologies  that produce printouts that are of poor quality. Be sure to pre-order samples to confirm if it the product description matches the actual item.
It is a numbers game
POD is a numbers game. The more products you have the more sales your are likely to make. You may end up spending too much time just to make a single sale.
This is especially if you are targeting general or broad niches which have already been exploited but still have a high demand. Narrowing down your niche is important
Copyright infringement
Some marketplaces do not allow copyrighted or trademarked work. This actually a good thing but it gets worse when you, as a creative, cannot use some phrases which do not intend to infringe someone's work but make your designs stand out.
Print on Demand FAQs
Follow are some the most frequently asked questions in regard to POD
Is Print on Demand Business Profitable?
Yes! It is very profitable. It all boils down to what you already know about the whole POD business plus strategies you've already laid out to win.
Generally, if you will invest time in finding selling ideas,  testing the ideas to discover what is working and what is not working, while you continuously evaluate and re-evaluate your performance, you will make profits.
Also;
choose  the right marketplace/ fulfillment company(if it is your own store)
 Work with fulfillment/dropship companies that offer quality  services(fulfillment) and products(Fabric)
Market your products
Further Reading: 11 clever ideas to skyrocket your POD profits
Do I need to be a designer/artist to be successful in POD?
The answer is NO. There are success stories all over the internet which indicate that making huge sales does not entirely rely on your design skills. There's more into it.
Some of the best selling POD t-shirts contain only text. There are also products that contain very basic designs but they still sell.
However, if POD is an enterprise you're planning to brand and grow, you will need some design skills. This will eventually pay off.
Of course, you can hire a designer or an artist but it will definitely cost you  especially if you are just beginning and you've limited cash.
What is the Best Print on demand Site?
There's nothing as the best or perfect site. It will depend on the what products your are intending to offer and the kind of features your are looking for. Find out more about the most popular sites
Print on Demand Success Stories
There are many people who have succeeded in POD products especially t-shirts. This information all over the internet especially on YouTube.
What Products can you Print on Demand?
A lot of products can be printed on demand.  They are quite many and the number is ever growing. The items include;
Apparel for men, women, youth, teens and babies
Bags
Mugs
Stationery
Home decor
Pet accessories
Device accessories
Art Prints
This piece on profitable products with low competition has more info.
How do you start a Print on Demand Business?
It is simple. But you should  first identify the role you want play. You can be a creative, marketplace, fulfillment company  or just a simple store.
Most individuals want to be creatives or simple store owners.
For creatives simply open an account on one or two of the free marketplaces and start uploading your work. Simple!
For those who want their own stores, the process contains a number of steps. Further reading: 3-Step Guide to start a POD business
If you want to run a fulfillment company or marketplace, stay tuned a guide is on the way.