Selecting the right print on demand site is one of the best strategies to make more profits as well effectively showcase your artwork to the whole world.
You already know that the POD business model can quickly and efficiently turn your artwork into money. Below are some the best POD websites and a guide to select.
What to consider when choosing the best
Following are some factors to take into account while looking a site that will work for you.
Audience
When it comes to the digital space audience essential revolves around traffic. This the number of views a website gets in a given time. The more the better. Take for example Amazon.com, it gets millions of visits in a day which means that your product is likely to be seen by the shoppers
Variety of products
Some POD products are already saturated and therefore making sales will be challenging. A site with many different products will provide an option to try other items.
In addition, if your artwork performs well in one product, it is likely to replicate the same to other products.
Reliability
Some POD will discontinue, deactivate or ban you forever without a warning. The number of sales or designs won't matter. Reading the terms and policies is not adequate. Check online for people who have been banned and what they experienced.
Fees
Some POD sites are free while other will require you to pay registration and other service fees. If you're a starter, the free ones are the best to experiment with.
If you've been in the industry for a while and you are sure of what to expect, paid ones can be an option, or you can still start your own store using either WooCommerce or Shopify
Profitability
Go with sites with low base price and adjustable profit margins. High base prices and fixed margins will automatically lead to low profits.
Quality
Quality can be approached from many angles including;
Fabric and other materials on which artwork will be printed.
Print- This focuses on the final look and durability of the artwork on the product.
Packaging- how the printout is packaged.
Service- Fast delivery, answering customer questions, after-sales services
The only way check for quality is to order samples from a POD site of your choice.
Shipping locations
To make more sales hence substantial profits, consider sites that ship locally and internationally.
Web app and User Interface (UI)
Uploading and customizing your artwork on fly should be easy, quick and friendly. Avoid sites with poor that with complicated design personalization apps, disorganized elements and poor navigation structures.
Integration with your store
Consider POD sites that offer a means to effortlessly add your products to your online store or your blog, if you already own one. This allows your followers to seamlessly order products without leaving your site. This will also help in making more sales.
Payment
Payment should be easy, timely and should accommodate everyone. It should be convenient.
Additional unique features
Some sites such as Redbubble promote artists' artwork.
Other sites such as Spreadshirt allow you earn affiliate commissions from marketing your own designs
Following are some of the most popular and top print on demand websites.
Redbubble
This is an online marketplace where a number of products are offered. A diverse community of artists submit their artwork and this makes them a big player in the POD scene.
People love this site and this ensures a huge consumer base. Redbubble is one of the most popular site in this list. This means greater potential traffic and views of your uploaded designs.
There are several products that you can sale or buy at Red bubble; t-shirts, duvet covers, hoodies, postcards, skirts, notebooks, scarves, and stickers, among others. The highlights which make this site have a big artist base include the following;
You join this site free of charge
It is possible to sell a single artwork on several products
You can set your own margins and pricing as well
The interface is easy to use
The upload process is easy.
You can integrate with your store
Product promotion
Quality services and products
Merch by Amazon
Unless you are living in different planet, you already Amazon is the largest online store. This means millions of views which translate to huge traffic.
In terms of audience, Merch is the best. You products will likely be viewed by the huge number of individuals who shop on Amazon
It is also one of the best in terms of profitability. Most success stories of POD business mention this marketplace.
Creating an account is free but it may take ages before you're accepted. Even after your account is approved the number of designs you can upload is limited. It works in tiers or 10, 25, 100, 500 and so on.
The more you sale the higher your tier will grow that is, the more tee designs you will be allowed to upload.
The other downside is that the number of products is limited but at least their product catalogue seems to grow.
Uploading is straight forward. Their customization web app and upload is the simplest but very basic. It has limited features. It is absolutely not the best out there.
Uploading involves a few simple steps. The first is to upload your artwork.
You then choose your product type and color then set your own price having in mind that the price you set determines how much you earn in the end.
Add your product title description at this point. And in this step comes Merch's very scary feature. You cannot use copyrighted or trademarked materials, words or phrases. Check out their terms or risk being banned.
If by any chance your product is ordered, Amazon's Merch team prints ships it to your buyers. Finally you get your monthly royalties. Production, shipping, and general customer service is done with no upfront costs.
TeePublic
This is a Print On Demand platform which gives you a chance to upload and sell your artwork. You must not necessarily come up with your own designs in order to make profit, you can work as an affiliate seller at TeePublic.
TeePublic exposes you to a wide range of products on which you can print your own designs. They are such as; Kids and Adult t-shirts, Tank Tops, Crewnecks, Posters, Phone cases, Notebooks, Stickers, Canvas prints, Hoodies, Laptop Sleeves and Art Prints.
With TeePublic, their products are standardized such that; the products have two different prices; a sales price and a regular price. When you upload a new design, you should expect that in 72 hours, it will be featured on sale. TeePublic offers great prices with high commissions for designers.
Zazzle
Zazzla is one of the oldest POD site. This means a huge amount of traffic which is very important.
The customization capacity of Zazzle is the zazzle USP. It is incredible and unique. You can choose art of any artist or alternatively, you can come up with your own design.
There are several items you can print at zazzle; buttons, t-shirts, invitations, mugs, tote bags, stickers, kid's clothes, business cards and kid's pacifiers. There are several highlights which can be related to the success of zazzle;
There is high traffic
There are plenty of products where the artists sell their art and consumers can buy too
You can also select your royalty
Zazzle offers tips and tutorials which are aimed at improving your product
Sunfrog
This relatively a nice place to get good designs of shirts. Sunfrog is majorly known for having great shirts and t-shirts. There are varieties of categories from which you can make your choice. Sunfrog has great customer traffic.
Sunfrog has their products printed in the USA after which they are shipped all over the world.
There are several products that can be printed in Sunfrog and they include the following; shirts, t-shirts, and hoodies. The reasons behind the success of Sunfrog are as highlighted below;
Their pricing is great for customers
They have a wide range of designs
Artists who use Sunfrog also have an added advantage since it does quality art
Society6
In Society 6, Artists all over the world can upload their art and sell it. Art prints are the niche area. It is this niche which makes Society6 very unique. There are other products from which you can choose.
The wide range of products that can be accessed in Society6 can be pointed as one of the reasons the site is very successful. The products offered include; gifts, apparel, stretched canvases, art prints, furnishings, and framed art prints.
Below is a summary of the major reasons Society6 has been very successful;
Free account
It is a great offer for art lovers.
There is a wide variety of products to print on.
You can set your own sales margin.
Spreadshirt
Spreadshirt's is audience is huge owing to the fact it's one of the most established POD site. Registration is free and you can upload as much as you wish
Spreadshirt provides a market place where more than 100 products are made available to customers.
Customers can make, sell designs, or buy products at the Spreadshirt marketplace. With Spreadshirt, you can make available your designs via one or two channels: shop and marketplace
With each sale, you get to earn artwork and product price. An affiliate program is also available.
You need not worry about traffic and marketing since Spreadshirt takes care of it all.
Cafepress
CafePress, Inc. is an American online retailer of stock and user-customized on demand products.
Where this site shines is the number of products it offer. As of 2019, it offer over 250 items. Cafepress has been in the industry and has gained a lot of popularity over the year. The audience is huge. It should be somewhere fairly near to Amazon.
It offers both free and paid accounts. You can set up any of the following accounts
Basic
CafePress
Premium
Basic and Premium allows you to set your own store price as a markup over the base price CafePress sets for each item, while CafePress sets the sale price for items you sell in a CafePress shop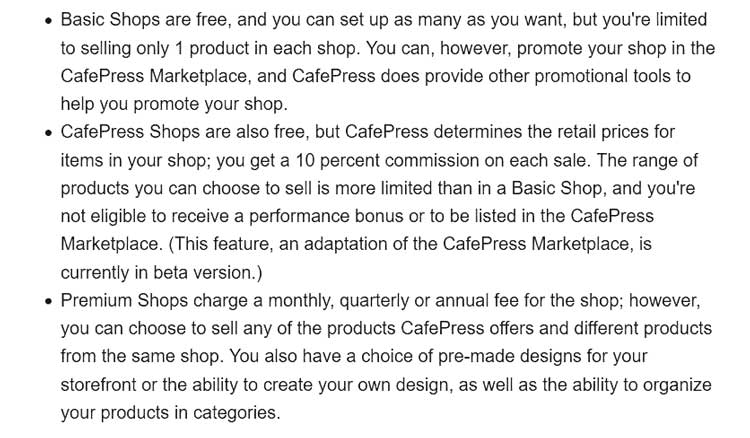 Cafepress is international and there are country-based stores for
Australia
Canada
United Kingdom
United States
If you have a blog, website, or 'built-in-audience', CafePress sets you up in order for you to get your own online shop which has your brand.
One other outstanding feature is that this platform makes it possible for to sell on other established and popular stores like Amazon and Esty
Apart from being in a position to sell your designs, as an artist, you can also join Cafepress Affiliate Partner Program. Commissions can be as high as 15% and you can join the program free of charge.
Design By Humans
This is a community made up of gamers, artists, YouTube users, and designers. Some of the greatest pieces of art on internet are found in 'Design By Humans'.
Nearly every day, there are shirt competitions where the designs that emerge winner in the competitions are sold at discounted rates. As sales increase, the commission of the artist behind the increase also goes up.
You can print apparel, buttons, accessories, art prints, and hats; among others. The advantages using 'Design By Humans' include the following;
Artists get good profit margins
It is one of the best places where you can find prints
Design By Humans community is very supportive with a goal of empowering artists all over the world.
Threadless
Threadless operates in a very unique way as compared to the other marketing websites. This is because, as soon as the artist submits their design, it is only made available for sale if the Threadless community votes for it. This stringent selection process ensures that the designs made available for sale to customers are the very best.
The products are shipped worldwide. The products you can print at Threadless include but are not limited to; beach towels, home décor, apparels, notebooks, accessories, and hats. The highlights below contribute to the success of Threadless;
If you are an artist, you can set up a shop at Threadless.
The designs of any artists can be customized.
In Threadless, the designs are original and there is also outstanding talent presented to you in this site.
Pixels
Pixels Company is among the largest Print On Demand Company. This Company has been in operation since 2006. It has 15 fulfillment centers located in 5 different countries.
Pixels Company requires you to add POD products to your Shopify. You should then upload your designs and add them to your products together with their prices.
Once your order is received by the Company through Shopify, the products are manufactured within 48 hours. The Company then drop-ships the items directly to your customers and gives you a notification when each shipment is made.
Advantages of using Pixels Company include the following;
Automated Order Fulfillment
As soon as a buyer orders any of your products, the order details are automatically send to pixels which manufactures the order within 2-3 business days; and then drop-ships the product to the buyers notifying Shopify that the orders have been delivered. Full-automation of the process makes everything very easy.
There are 15 Global Manufacturing Centers
As mentioned earlier, these centers are in 5 countries; United States, Canada, United Kingdom, Netherland/Europe, and Australia. These centers are operational 24/7 ensuring your orders are manufactured in good time
You set your own prices
Once your orders are made, Pixels Company sets a base price and then allows you to add a markup on top of the base price. Whatever additional amount you set above the base price will be your earning once the sale is completed.
There is a wide range of products available
Some of the product classifications of what is offered in Pixels Company include; Apparel, phone cases, wall art, fashion and style, and coffee mugs among others.
Teescape
Teescape involves use of an app to offer professional printing and fulfillment services. Below are some of the features and positives of Teescape which make it competitive in relation to other fulfillment service providers;
It has a system that is fully-automated and monitored
From the moment you sent your order through the Teescape app, to the time it is shipped, an art of fully automated and paperless system is used. This art ensures fast processing and excellent handling of your order. This process reduces the possibility of customer items getting lost.
Triple quality control
Throughout the production process, your shirt passes through the hands of three different people who ensure that your shirt is designed exactly as you ordered. Where there are mistakes, they are quickly identified and rectified before the shirt gets to the customer.
Managed artwork preparation and processing
Unlike most Fulfillment companies, the Teescape Fulfillment App ensures there is full control of the sizing and positioning of all the work that is done on the t-shirt. This ensures the highest quality of any garment is attained.
Selective garment offering
Teescape avoids delaying customer orders by only offering the products that they are sure are in their stores or on their shelves. The Teescape App consequently avoids the stress of providing excess but substandard services.
Tshirtgang
Tshirtgang has been in the POD T-shirt fulfillment industry since back in 2005. The main features that have contributed to its enormous success are; 100% automated fulfillment, neither start-up fee nor monthly fee, and its fast processing speed reducing time taken to make a fulfillment.
Tshirtgang does both the printing and shipping and that means there is no need to stock product or even purchase any equipment. All you are required to do is upload the designs that interest you and by a single click all the products appear on your store line.
Advantages of Tshirtgang include the following;
Their in-house technology team ensures full integration of the shipment process with Shopify to enhance automation of the entire process.
All the orders are processed within 2 business days and that ensures that customers are not kept waiting. If you want even faster processing, Tshirtgang gives you the option of 1 business day 'Fast Track'.
With Tshirtgang, quality of the t-shirt is assured since they use the latest digital print technology.
There is great selection of quality products since Tshirtgang provides a wide range of options from which you can choose. The garments come in variety of colors and sizes and they are premium cotton which is not only gives you comfortable feel but is also stylish.
There are no order minimums and hence you can place orders of up to 1000 products.
The support staff members in Tshirtgang are available at all times to answer questions from clients. They are both friendly and knowledgeable.
Viralstyle
There are three main features which make Viralstyle identified as one of the fulfillment service providers who can be trusted;
It is free in that there are neither monthly fees, nor equipment and inventory.
The orders are automated and that makes the use of the app very easy especially in relation to integration with your store. The orders are automatically send from your store for fulfillment.
Viralstyle offers automated tracking. This is possible since creation, fulfillment, and shipping of the orders is done through Viralstyle app which is within Shopify.
It is also important to understand how this Viralstyle app works. The first thing is to click the button indicating 'Get App'. You will then need to create an account with Viralstyle. In the case where you already have an existing account, all you will need to do is to sign in.
You then set your billing and profile. Viralstyle at that point expects you to upload the print files for which you seek fulfillment.
There are various products offered by Viralstyle and they include; T-shirts, sweatshirts, phone cases, tank tops and all-over shirts, sublimation products, custom koozies, and tote bags among other products.
Galloree
Galloree enjoys doing print cases. Over the years, it has greatly grown and it prints thousands of t-shirts then ships them all over the world. It is based in Charlotte, where it does most of the printing. Galloree puts on offer custom t-shirts and does not give a minimum order.
Prices of the offers at Galloree are affordable and you get even lower prices if you make your orders in bulk. In the case of bulk t-shirt orders, Galloree does an automatic screen printing presses. With Galloree, quality is guaranteed as well as a refund if the t-shirt shipped to you is not satisfactory.
Teefury
Teefury specializes in offering customers just apparel items. Their t-shirts are among the most affordable in the market and they offer the good prices without compromising quality. If you are an artist at Teefury, artists are paid $1 per t-shirt sold. It takes about 15 days for the money to get to your account as an artist after the t-shirt is sold.
Teespring
Teespring give you two options as highlighted below;
Create and sell your products by uploading your best designs.
Upload your design then receive custom apparel for yourself or your company.
Generally, all you need is to choose the size and quantity which you need and then the order is brought to your doorstep just by making a few clicks. Teespring campaigns will take between 3 to 21 days. With Teespring, you are required to set your sales goals. You however must not meet these goals but you must be sure to make enough sales to earn a profit.
More
Spreadshirt vs redbubble
While Redbubble accepts apple pay, Spreadshirt does not accept that payment option. This gives Redbubble an added advantage with relation to Spreadshirt when it comes to the payment options available.
From the current research, Redbubble has not been found to offer discounts to any senior citizens. On the other hand, Spreadshirt has a senior discount policy. This policy ensures discounts and special offers are availed to senior citizens.
Further Reading;
Best Print on Demand Fulfilment/Dropship Companies